Time for a last "summer" pizza!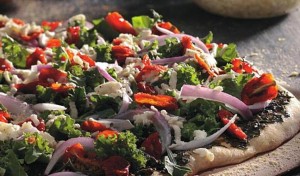 from Cooking Close to Home by Diane Imrie & Richard Jarmusz, a great cookbook for all eating local in Vermont!
Pizza Dough (they have a great Maple Whole Wheat dough recipe)
3 Tablespoons Basil Pesto
1 T Olive Oil
1 T chopped Garlic
3 cups roughly chopped Kale
3/4 cup cherry tomatoes, preferably Sungolds
1/4 cup chopped onion
1/5 cups shredded mozzarella cheese
Pepper
Preheat oven to 375
Roll out pizza dough to fit your pan or baking stone.
Spread pesto on top of pizza to cover, leaving 1/2 inch around the edges.
In a saute pan, add the olive oil, garlic and kale adn saute over medium heat for about 10 minutes or until kale begins to soften slightly.  In the last minute of cooking, stir in the cherry tomatoes.
Arrange the kale and tomato mixture evenly on the pizza.  Arrange the onion on top.
Sprinkle the cheese over the top of the pizza. Be careful to cover the tomatoes and kale with the cheese or they may burn during baking. Season with pepper.
Bake in the oven until the bottom of the crust is golden brown, about 15 minutes.