While our farm tour participants come from a variety of places and walks of life, often the responses converge. The view appeals. The distant Worcester Range a purple silhouette, with Paine Mountain and other near ridges in the full relief of peak foliage. Clean lines of the old fashioned barn and modern high tunnels occupy the mid-range and focus our attention. Tidy row crops and the herbal orchard understory's flamboyant calendula draw the eyes back near to where our feet are. Farming at the top of the watershed puts it all in perspective.
This morning we were honored to host a team from UVM, including the Provost, David Rosowsky as well as Vern Grubinger and Ginger Nickerson and the Dean of their Extension team, Doug Lantagne. This afternoon it was Di and her 14 year-old granddaughter visiting from Australia. Whether Vermont born, or from the other hemisphere, engineering trained, or with the openness of youth, the hill farm perspective is compelling. Here it seems easy to find joy and belonging – as humans who care about food, fellow humans and this planet. It gets even easier when one gets over the rise in the land to take in the piglets on pasture!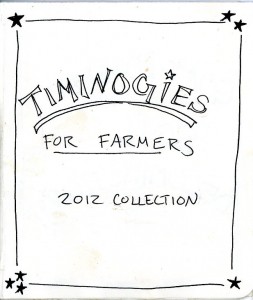 Without visitors we easily can forget to take it all in. Instead today we are excitedly thinking about future UVM engineering students creating timminoggies for small diversified farms, prepping our schedule so key staff can get to upcoming UVM extension offerings relevant to our maturing enterprise, and hearing what our place looks like to interested visitors from far away.
As temperatures remind us of fall's arrival we can look ahead to the season of reflection with new excitement for analyzing our progress and learning more in winter conferences. And
now we are  eager to read Vern's new book Food, Farms and Community: Exploring Food Systems, written with UVM Extension colleague Lisa Chase, due out later this year.