Last week Laura's brother's family visited some of the Mountain Gorillas in Rwanda, only 780 are estimated left in the world. When Noah left our farm on his way toward this adventure Mari asked him to pass on a message from her – "our species is off track in some ways, please hang in there, we'll try to right things".
But Mari regrets not just sending them a love letter as it may have been more generative.
This week's New York Times article "Don't Let Your Children Grow Up To Be Farmers" shed light yet again on the struggle of small farms. Tough facts to swallow amidst August exhaustion but great to have more perspective available to the wide public that cares about farms.
Do we really choose some of the things that take our money, time and attention thinking that the Mountain Gorillas and farms in our communities are expendable? Or do we just get distracted from true love?
Lindsay Arbuckle and Scott Courcelle love the magic of growing food and the nourishment it provides their community and Lindsay writes regularly about it for the Rutland Herald. Her recent love letter to their farm made me smile. Before you read it, take a second, write a note (imaginary or real), or postcard, or an old fashioned love letter to a farm you love.  For those of you that send love in letters, visits, smiles, purchases, and all the other ways, thank you..and know that is does matter.
Bren, the author of the NYT piece suggests it is time for a new movement and we agree.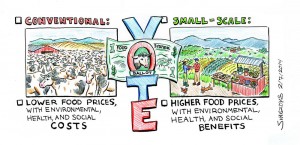 But in the meantime, lets face it, love, not dollars, fuels the local food movement as with so many other good causes. Fan the flames of that love and let the revolution begin anew and proceed deliciously!