Do you remember a favorite picnic? Was it a date? Or with elders? On your way someplace or a destination in itself? Outdoor concerts have done their part to make sure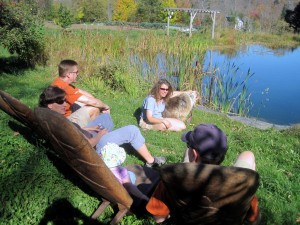 picnics don't become a lost art. But let's face it, some of the same tugs and pushes of modern life that trend us away from farm fresh food, make little room for this simple and pleasing summer ritual. Yet whether we are trying to reduce our stress levels, refresh our relationships, re-discover abundance via fresh food or nature, picnics can be powerful.
This Saturday (11am-1pm), together with the Floating Bridge Food and Farms Cooperative's Slice of Life learning series, we are hosting our first "pick your own" picnic! It will be a great chance to see the farm's gardens and orchards up close and share knowledge with the farm team about both gardening and food prep.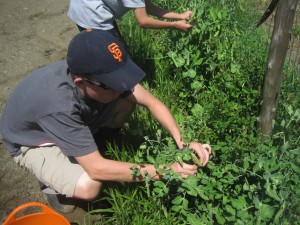 Andrew and the crop team have been scouting what will be ready for picking and we'll soon have the menu up on the website and facebook. Elderflowers, currants and gooseberry will feature along with the herbs and produce. A hands-on session in the farm kitchen will transform the luscious loot into a fun fresh meal, which we will enjoy pond-side after strolling past the goats, pigs and chickens on pasture and glimpsing the new turkey poults.
Picnic Menu
Elderflower Spritzers & Lavender-Mint Tea
Cucumber Cups, Lettuce Wraps, Salad in a Jar filled with:

Roasted Chicken Salad
Beet Fennel Salad

French Breakfast Radishes and Butter
Salsas
Kale Chips
Veggies & Dip
Black Currant – Mint Sorbet
If you want to register for the tour and a place at the picnic table, it isn't too late! We'd love to enjoy prepping and eating some simple but slightly showy picnic recipes with you. Some of the menu will be planned and some, inevitably, will be inspired improvisation, fed by what we find in the gardens and by conversation amongst the group. AND, if a picnic just feels too extravagant for your Yankee-self, note that the recipes and concoctions will equip you with a refreshed portfolio of ideas for lunches you can bring to work and quick summer supper – you know for those picnics that just need to happen at the kitchen table.
Whether you can be with us Saturday or not, look ahead at the rest of the summer and pick out a time when you can slow down and enjoy a picnic – solo, with a new friend or dear ones. If conditions allow, make it someplace special, maybe even a farm.
Pick-Your-Own Picnic
Saturday, July 19, 2014
11:00am – 1:00pm
$20/adults, $10/kids
Green Mountain Girls Farm
Event page
Enjoy the seasonal bounty and seasonal beauty of a Vermont hill farm as you learn about, harvest, cook, and eat a very fresh, very local picnic. Tour the farm, learn about what's in season, then prepare a farm-fresh lunch from start to finish and, weather permitting, enjoy it outside, surrounded by the verdancy of a farm in summer and the beautiful view of neighboring Paine Mountain.