Lots of great cooking greens!  Think stir fries, soups, cooked greens as a side dish and even veggie fritters
This week at the farmstand you will find:
Fresh/Stored Veggies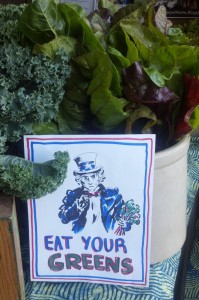 Asian Greens 

Braising//Cooking Greens

Carrots

Cilantro 

Garlic (in the freezer)

Green Beans, frz

Kale

Head Lettuce (LOTS!)

Mint

Mustard Greens

Pesto, Basil & Cilantro

Oregano

Pea Shoots

Potatoes 

Radishes

Spinach

Thyme
Veggies in the Pantry
Bread & Butter Pickles

Dill Pickles (Chunks)

Dilly Beans

Green Tomato Pickles

Hot Sauces

Jardinere

Pickled Jalapeños

Lemon Pickles

Pepperoncini

Heirloom Tomato Salsa

Crushed Tomatoes

Italian Tomato Sauce

Tomato Paste

Tomato Puree

Dried Tomatoes

Dried Hot Peppers
Meats
Bacon

Pork Belly 

Bones, Pork & Goat

Breakfast Sausage, bulk

Chicken, Roasting

Chicken Breasts*
Chicken, Legs & Thighs*
Chicken, Wings*

Fat, Pork

Jowl, Pork

Ground Pork

Ham Roasts & Ham Steaks

Lard*

Offals (Pork, goat & poultry liver, kidney, heart and necks)

Pork Roasts

Shanks, Goat

Spare Ribs, Pork

Stock, Roast Goat & Pork*
Stock, Poultry*
Boneless Turkey Breast*
Ground Turkey*
From our Friends in the Floating Bridge Food & Farms Cooperative
Maple Syrup from Spotted Dog Farm*
Raspberries from Spotted Dog Farm*
Blueberries from Spotted Dog Farm*
Cider Syrup from Brookfield Bees*
Caramel from Fat Toad Farm*
Most will be available throughout the week.