From BBC's Good Food – Translated into American and adapted for Green Mountain Girls Farm ingredients by Donna Farley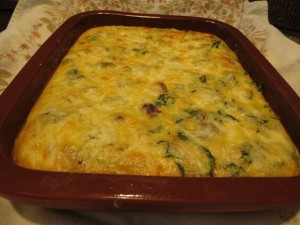 Donna made this for farmer lunch today, paired with simple shredded carrot salad and there were many happy farmers!  We were brainstorming the many other ways it could also be delicious – with cilantro and cumin; farm made chevre instead of cheddar and some of us added a bit of hot sauce.  All great.
Ingredients
1/4lb spinach, chard or other cooking greens
6 eggs
15oz goat milk
1 T mustard powder
1 t salt
3 thick slices multi-grain bread (about 7oz)
7oz sharp cheddar (or chevre)
4 clusters of cherry tomatoes on the vine or ¼ cup dried tomatoes
Method
Preheat the oven to 350F (325F Convection bake) and butter a shallow 2-litre (8 ½ Cup) dish. Tip the spinach into a colander in the sink and pour a kettleful of boiling water over it. Leave it to wilt while you make the cheesy base.
Break the eggs into the bowl of a food processor, pour in the milk, add the mustard and 1 tsp salt. Tear in the bread, crusts and all, then whizz together until smooth. Tip the mixture into a large bowl and grate in three-quarters of the cheese.
Squeeze the spinach or other greens, to get rid of all the water, then stir it into the cheese mixture and tip into the dish. Grate over the remaining cheese, top with the tomato clusters (or push dried tomatoes into the mixture) and bake for 30-35 minutes until risen and golden. Cool and allow to settle a little before serving.