When Laura, Mari and her brothers helped their Dad, Erling (who celebrates his 97th birthday today!) resolve all the items from the family home Connie and Erling had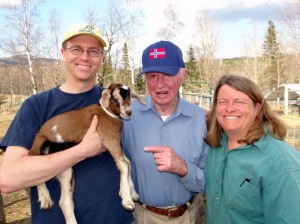 built 50 years earlier, one item everyone treasured was a small pressed edelweiss flower in a simple frame. The flower its namesake song touched the hearts of all the Omlands.
Treasured even more in Omland family history is Pico, the Vermont mountain where Connie and Erling met, formed many of their most meaningful relationships and raised their family. Two years back, when the farm chose mountains as the naming scheme, we knew one very special doeling would get the name Pico. A milking doe at the farm would have the best likelihood to outlast any other animal.  Marlene's female kid not only had her Mom's stately conformation, she had a snaking white stripe down her side. Clearly that was the "Sunset Schuss". Clearly this was Pico.
As a yearling Pico grew and blossomed beautifully and indeed even through kidding which she breezed through she had a striking presence. This past weekend we separated her from her lovely kids, El Niño & La Niña. She and the 3 other young does trying out for the milking team gathered with Ingrid, Grace and Jenga. As could be expected of almost any animals merging, they began to re-establish their social order, head-butting etc.  Mari milked Pico Saturday morning, she was less agitated than the rest of the newbies. We thought she was just cooperative and living up to her potential.
Lots else happened this week on the farm, planting out tons of the summers vegetables, the flocks and herds returning to pasture. But by Saturday afternoon when we checked on the does on pasture, the right number were not in sight. Pico was laying on the side of the milking barn where she had plunked herself down hours earlier. She wasn't able to get up but her rumen was active, she nibbled browse and didn't have a fever. We administered shade and Banamine. She refused water and water with electrolytes and molasses.
We slipped away to celebrate Magen Farley's graduation from Johnson State for a bit but on return Pico's condition had worsened and we called one of our trusted vets. Alison quickly responded and we administered a full battery of support but to no avail. By nightfall Pico was pretty unresponsive and the rest of the week blurred into a distant background. We did what we could to ensure her comfort. We popped into Montpelier to glimpse another graduate, this time our friend Nina, founder of the new and dynamic Wake up to Dying Project. In the morning we woke up to Pico's death, deeply saddened and taught our new staff member Charlotte mortality composting.
As Charlotte and Laura walked back down the hill away from the pile they heard Mari singing to Pico as we do with any animal we lose. Charlotte said, "Edelweiss seems the most appropriate song for her" and started humming.  Was she channeling the ancestors?  A perfect song for Pico – yes, Bless our Pico forever – which is a wording shift that Erling Omland would often make when singing the song whether skiing or hiking.
The Wake up to Dying Project believes that "if we pay just a little more attention to the fact that we die, we will pay more attention to the way we choose to live". Celebrate all you treasure, perhaps with a song!
Edelweiss, Edelweiss
Every morning you greet me
Small and white clean and bright
You look happy to meet me
Blossom of snow may you bloom and grow
Bloom and grow forever
Edelweiss, Edelweiss
Bless my homeland (Pico) forever.