Spinach is happy and there is plenty of this sweet, meaty green to enjoy. Also we are harvesting a small amount of Asian Greens this week, not tons, but they are back!
Field Stone Farm is firing up their pizza oven for us this week and there will be new pizza varieties available on Thursday.
This week at the farmstand you will find:
Fresh/Stored Veggies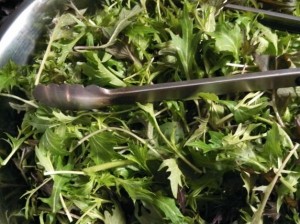 Asian Greens (limited)
Carrots
Fresh Cilantro
Garlic (in the freezer)
Green Beans, frz
Pesto, Parsley & Cilantro
Potatoes
Spinach!
Tomatoes, Frozen!
Veggies in the Pantry
Bread & Butter Pickles
Dill Pickles (Chunks)
Dilly Beans
Green Tomato Pickles
Hot Sauces
Jardinere
Pickled Jalapeños
Lemon Pickles
Localvore Bloody Mary Mix*
Pepperoncini
Pizza Sauce
Heirloom Tomato Salsa
Crushed Tomatoes
Tomato Juice
Tomato Paste
Tomato Puree
Dried Tomatoes
Dried Hot Peppers
Meats
Bacon & Bacon Ends
Pork Belly
Small Boneless Pork Cuts
Bones, Pork & Goat
Breakfast Sausage, bulk
Chicken, Roasting
Chicken, Legs & Thighs*
Chicken, Wings*
Fat, Pork
Jowl, Pork
Leg of Goat Roasts
Goat Stew Meat
Ham  Roasts & Ham Steaks
Italian Sausage, bulk
Lard*
Offals (Pork, goat & poultry liver, kidney, heart and necks)
Pork Chops
Bone-in Pork Roasts
Spare Ribs, Pork
Shanks, Goat
Stock, Roast Goat & Pork*
Stock, Poultry*
Turkey Thighs
Turkey drumsticks & drumettes
Turkey wings
Boneless Turkey Breast*
From our Friends in the Floating Bridge Food & Farms Cooperative
Wood-fired Farm Pizzas from Field Stone Farm*!
Raspberries from Spotted Dog Farm*
Blueberries from Spotted Dog Farm*
Cider Syrup from Brookfield Bees*
Caramel from Fat Toad Farm*
Most will be available throughout the week.
Items with a star* are not included in the Omnivore Share but are available for purchase to all and Omnivores get a 10% discount.