My rule of thumb is that if it sounds like a good ice cream flavor, it will make a great Pots de Creme flavor. In light of the raspberries about to grace our Farmstand, I started thinking about something that combines raspberries and egg yolks in a way that's a little off the (no pun intended) beaten path. This recipe is an adaptation from Giada De Laurentiis. It can be served in ramekins, teacups, little mason jars, or anything else that you can put in the oven.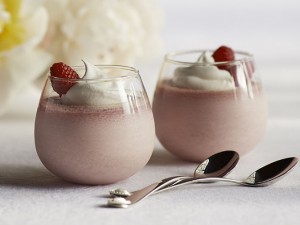 Ingredients
3/4 cup heavy cream
1/2 cup whole milk
1/2 teaspoon rose water
4 egg yolks
1/4 cup sugar
Pinch salt
3/4 cup fresh or frozen and thawed raspberries, mashed
Preparation
Preheat oven to 350 degrees.
Heat the cream, milk, and rose water over medium-low heat just until warm.
Mix the yolks, sugar, and salt together in a bowl and whisk until smooth. Slowly whisk in the milk mixture. Stir in the mashed raspberries.
Ladle the mixture into your dishes (if you're using mini ramekins, it takes 4 of them). Place the dishes in a baking pan with high sides. Pour enough hot water into the pan to come halfway up the sides of the dishes.
Bake for 30 minutes until the custard is almost set. Remove the pan from the oven and allow the ramekins to cool while still in the water, about 1 hour. Remove the ramekins from the water and refrigerate for at least 2 hours until set.