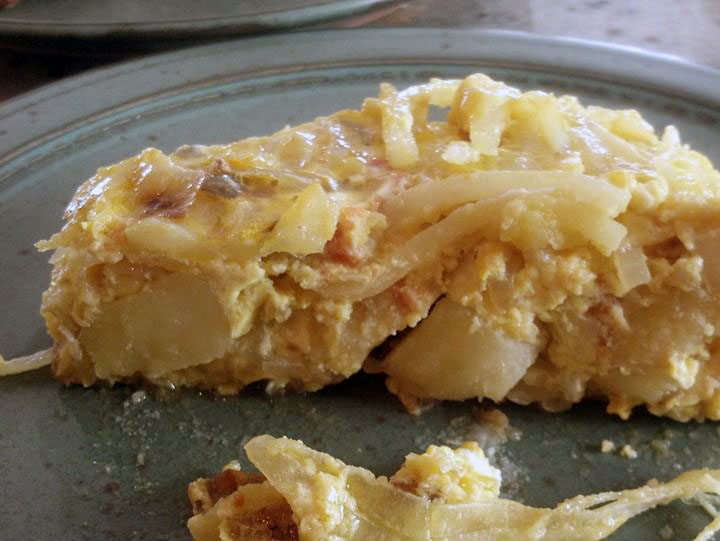 This is a quick and hearty dish, perfect for times (such as the heart of winter) when there are lots of eggs. Though the classic recipe uses only potatoes, onions, salt, oil, and eggs you can add any other ingredients or seasonings you'd like for almost endless variation.
Ingredients
4-7 small to medium potatoes
1 large or 2 small onions
5-6 eggs
A few Tbsp fat or oil
Salt to taste
Preparation
Wash and cube the potatoes and dice the onion (onion and potatoes can be cut to any size you like – some other options are for potatoes to be sliced thin or onions cut in strips).
Heat oil in a skillet and gently cook onions and potatoes partially covered over low to medium heat until potatoes are soft (may take up to 30 minutes). You can also use a few cups of oil, more truly stewing the veggies in oil in the skillet and then straining them when finished so the oil can be reused for later cooking.
Whisk eggs and salt in a bowl. Remove vegetables from pan and mix with egg. Reheat the skillet with additional oil if needed and pour the whole mixture in.
Cook over low to medium heat, checking under the edges to see if the bottom has browned. When the bottom is cooked invert the omelette onto a plate and put it back into the pan to cook the other side. Instead of flipping it, you can also simply leave it in the pan and then cover it or put it in the oven to finish cooking it.