"Bed prep" at our farm usually involves reviewing the soil test, amending, addressing compaction if needed and readying the soil to receive seeds or transplants.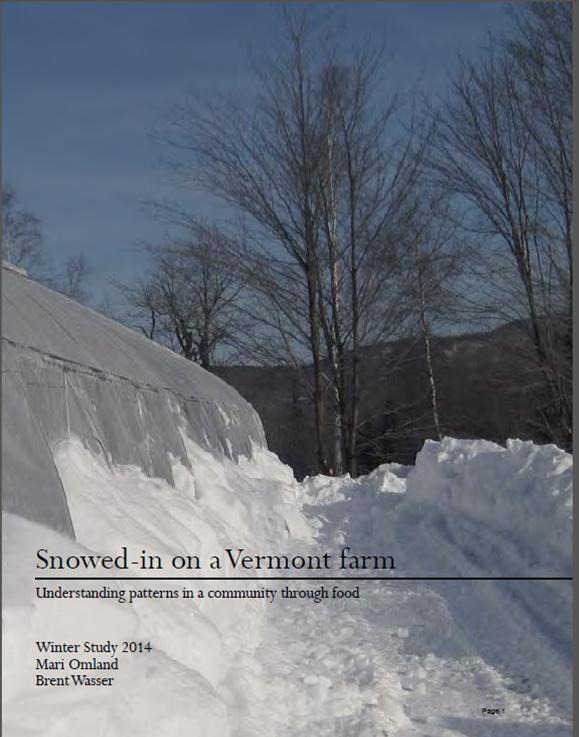 This weekwe are more hospitality focused and it means a lot of "hospital corners", as we prepare to host a Williams College Winter Study course.
Entitled Snowed in on a Vermont Farm: Understanding Patterns in a Community through Food, students will be in residency at the farm for a week engaging in farm work and life, developing a sense of place via guest lectures and tours with neighbors and other area farms and businesses.
We should probably change the course title to "Iced in on a Vermont Farm"! But the town has done a great job with Loop Road and Tom Sanders has diligently kept us plowed and sanded while staff do what we can to make pedestrian travel safe despite the rough weather.
You are welcome to participate in Ben Falk's public presentation and book signing here next Thursday (7pm, January 16th) along with the students. We'll have
hot simple soup in the farmstand from 5-7pm prior. Entitled The Resilient Farm and Homestead, the book is a handbook for developing regenerative human habitat systems. Ben's presentation and the book detail leading-edge strategies for
regenerating soil, water systems and human health through the design and operations of his homestead and farm. Ben and his teammates at Whole Systems Design supported us in our initial conceptual design, development of our pond and orchard plantings and master plan and periodically have provided technical support as we have developed. He has spectacular photos, interesting drawings as well as fresh and compelling ideas and stories. Come feast with hungry (and tender young) minds!
As if to make way for the students, our remaining 12 male goats dutifully moved on to their next spot this morning. This time, instead of pasture or their winter quarters it was into our not-so-trusty, slightly rusty, old horse trailer. We bid Willy Wonka, Mr. Nilsson, Winken, Blinken, (Nod already went), Hazel, Fiver, BigWig, Clifford, Curious George, Piglet, Corduroy and Paddington hearty and heart-felt thanks and drove them 11 miles South to Braintree.
We feel lucky to have Royal Butcher and Royal's capable team and Certified Humane operation so nearby. We are going skip bidding this crew goodbye via facebook since our last marking of such a passage lead to an onslaught of extreme responses. We took the liberty to block some of the more hostile responses but the you can view the rest of the string of dialogue with many wonderful responses from our community.
All that seems timely as slaughter regulations are currently in the news as the legislative season lifts off. A slice of Laura's interview with Angela Evancie (and Kegan's knife sharpening in our farm room) comprises the opening lines of this VPR story which was also featured in the Times Argus.