Thursday, October 10th:  Making Chevre at Home  5:30- 7pm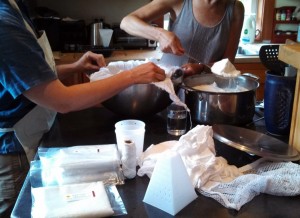 Do you love chevre? Have you been curious about making it at home? It is fun and easy to make your own delicious dairy products made from fresh, local organically raised milk and chevre is a great place to start!
The workshop is a hands-on class that will walk through all of the steps to make chevre from farm fresh goat milk. From milk to serving. Cost: $25/person. Includes hands-on instruction, recipes, meeting the goats and samples, of course.  Please register via email.
Farmstand Members receive a 10% discount; Omnivore Share members receive a 20% discount.
If you are interested in the full process from milking to making cheese, see our
From Teat to Table Farm Experience.