Back by popular demand – Farm Fresh Taco Night! Come for a taco dinner Thursday, Aug 29th 5-7 pm at the farm to kick off your holiday weekend. While you're here you can take a quick tour of the farm or sit by the pond and kick back and relax, enjoying the rich vitality of the farm in summer. We will be cooking up a storm, offering LOTS of fresh heirloom tomato salsa and trying out our new hot sauces!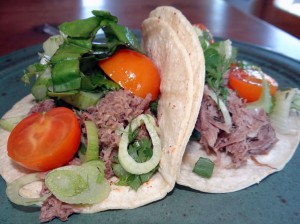 Taco Night Dinner will be available from 5-7 pm at the farmstand with seating outside if it is nice, inside if not. Menu includes:
Crispy Pulled Pork
Braised Salsa Chicken
Eggplant Carnitas
Fresh Mexican Slaw
Hot Sauces
Citrus Kale Salad
Fresh Salsas and Chips
Mexican Caramel Brownies
The farmstand will also be open and fully stocked with produce, meats, milk, and prepared foods to take home.
Dinner $15/adults;  $5 kids under 10.
Farmstand Members 10% discount & Omnivore Share members 20% discount.
RSVP via email to events@EatStayFarm.com