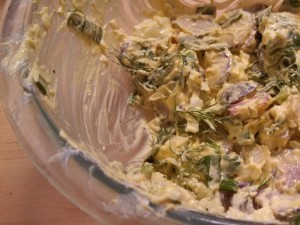 This salad, adapted from The Frugal Gourmet, is a cool, light summer dish that's easy to prepare and makes a great side or a snack substantial enough to see a crew of hot and tired farmers through to their next meal.  The original recipe calls for sour cream but we usually use chevre with milk mixed in to soften it. 

1 lb radishes
3 hard-boiled eggs
1/2 cup sour cream, soft cream cheese, or soft chevre
1 bunch of scallions, chopped
Sprigs of dill to garnish
Salt and pepper to taste
Preparation:
Clean and slice radishes and peel and chop eggs. Mix everything except the dill together in a bowl and season to taste. Garnish and enjoy!