This week is the grand opening of our new pick-your-own herb garden! The garden is on the far side of the hoop houses – just follow the signs.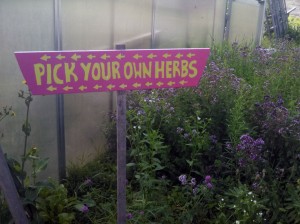 We are kicking off with a mini-class on Cooking with Fresh Herbs at 5:15 this Thursday, August 1st.
The herbs this week include Parsley, Anise, Dill, Summer Savory, and Sage. Minced parsley and anise make a great addition to greek salad (with tomatoes and cucumbers, also in season!). Anise is also a wonderful addition to tea. You can make anise sun tea by filling a glass jar with your favorite black tea and a few sprigs fresh anise and letting it steep in the sun for up to an hour – enjoy over ice.  Add chopped dill to your freshly cut greens for a lively summer salad; it's also great in potato salad (and other salads such as Radish Egg Salad), homemade bread, or roasted beets. Summer savory, more commonly known as savory, is a characteristic ingredient in Herbes de Provence, a mixture of rosemary, thyme, oregano, basil, marjoram, and fennel seed which is wonderful on the grill, as a seasoning for cream and yogurt sauces, and with fish or poultry. It is a great addition to marinades for grilling, such as the winning combination for Country Style Ribs: summer savory, mustard, red wine vinegar, salt and pepper. Sage is a subtle aromatic herb that goes excellently with citrus and is characteristically found in stuffings and gravies. Try our recipe for Honey Sage Ice Cream – yum!
The herbs available to pick as well as the amount available will vary throughout the season and there will always be a current list of herbs and any notes about the garden on a chalkboard in the farmstand. If you have any questions about picking, storing, or cooking with our herbs feel free to ask – we would love to share the joy of fresh herbs with you!