adapted from the Cilantropist.
Infusing the milk or cream before making ice cream is a great way to add flavors that would otherwise be difficult to incorporate. The recipe below is a great example and it can be made with all local ingredients. If you already have a favorite ice cream recipe, try following the instructions below for infusing the milk and then use it in your own recipe.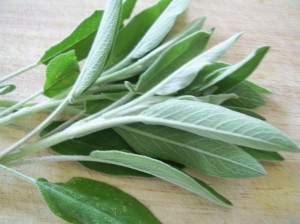 Ingredients:
3 c goats milk
2 bunches of fresh sage
1/2 teaspoon salt
5 large egg yolks
1/2 cup, plus 2 tablespoons good quality honey
Preparation:
In a medium saucepan, combine 2 cups of milk, both bunches of sage (bundled with kitchen string if possible), and salt. Cook over medium heat until hot, then remove from heat and cover. Let stand for 45 minutes to 1 hour to infuse the milk with the sage. Meanwhile, fill the bottom of a large bowl with ice, and place a medium bowl inside of it, on top of the ice (nesting bowls are great for this); add the remaining milk to this medium bowl, and place a fine mesh sieve over the top of the bowl (to protect it while it sits out). This whole setup will be used to chill the mixture before freezing.
After the sage has steeped in the milk for 1 hour, remove the entire bundle from the milk and reheat over medium heat. In a separate bowl, whisk together the egg yolks, and then add some of this warm milk mixture to the yolks, whisking constantly. Scrape the yolks back into the same saucepan, and stir over medium heat until the mixture thickens to form a custard-like consistency – just thick enough to coat a spoon.
Pour the custard mixture into the medium bowl with the remaining milk, through the fine mesh sieve; this will remove any egg solids that might have formed when making the custard. Thoroughly mix the custard into the milk. Heat up the honey briefly in the microwave, and then mix it in as well. Let the entire mixture set over the ice bowl, stirring occasionally, until everything has cooled. At this point, transfer the mixture to your ice cream maker if you have one, or transfer the mixture to a freezer safe container.