This week, an Associated Press reporter captured well our small farm's effort at not only producing sustainable, high quality food, but also providing related hands-on farm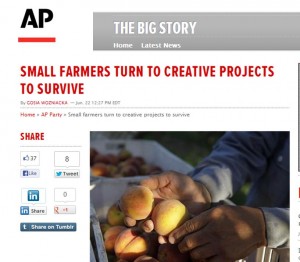 experiences, as both a way to offer people a deeper understanding of how their food can be raised and as a way to make a small farm viable.
Her story, "Small Farmers Turn to Creative Projects to Survive" not only quotes Mari after their nice conversation, but also captures what we are trying to achieve in quotes from other farmers and the overall story.
"The new agriculture is about story-based farming. It cares about the community, the farmworkers and the environment," Masumoto, a small California peach grower says. "The more we can differentiate from corporate farms, the more we can gain a new identity and be financially successful."
Many of you already know this about us and it is why you are members, occasional shoppers and fans of the farm.  You love the stories about your food and knowing how your food is raised.  Thanks for caring and engaging in the story with us.
In her story, the author notes, "The ventures allow the public to share the experience and flavor of small farm life."  That is exactly what we are offering with our short or longer farm experiences and overnight stays.  So as you and your friends and family plan your summer adventures, remember that one additional way to support this farm is to take advantage (or encourage others) of the classes, workshops and farm experiences we offer – be it Lattes on the Hoof, meeting the baby chicks, cheese and gelato classes, canning workshops or overnight farmstays.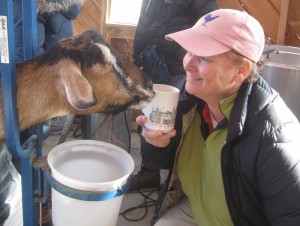 A full summer schedule of activities will be out soon.  Stay tuned.