We sometimes do a version of this simply into the crock pot, but browning it is a nice touch.
1-2 Quarts Tomatillo Puree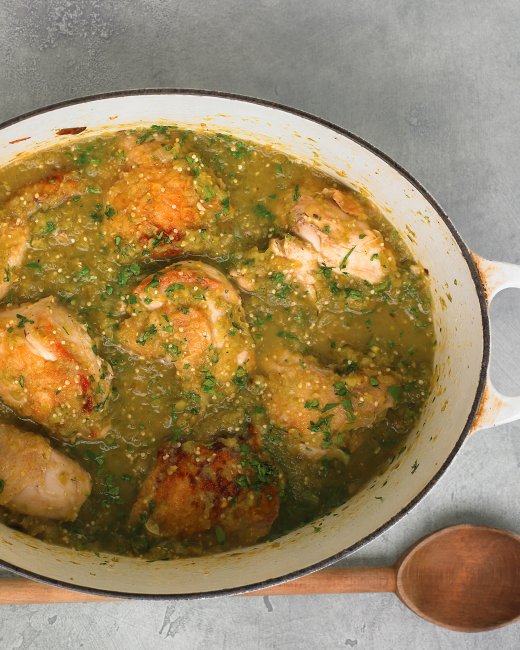 1 tablespoon oil or fat
1 whole chicken (3 to 4 pounds), cut into 10 pieces
Coarse salt and ground pepper
2 jalapenos, chopped (could use dried or pickled)
1/2 medium white onion, chopped
3 garlic cloves, finely chopped
1 can (15 ounces) hominy (optional), drained
1/4 cup chopped fresh, cilantro
DIRECTIONS
STEP 1 In a large Dutch oven or heavy pot, heat oil over medium-high. Season chicken with salt and pepper and add to pot, skin side down. Cook until browned on one side, 6 minutes. Transfer to a plate.
STEP 2 Add jalapenos and onion to pot and cook, stirring frequently, until slightly softened, 3 to 5 minutes. Add garlic and cook until fragrant, about 1 minute. Stir in tomatillo puree and hominy, if using; season with salt and pepper. Nestle chicken, skin side up, in sauce. Cover pot; simmer until chicken is cooked through, 22 to 25 minutes. Stir in cilantro; season with salt and pepper.
NOTE: some added cumin or coriander might also be nice! 
And you could spice it up with hot sauce if you want.