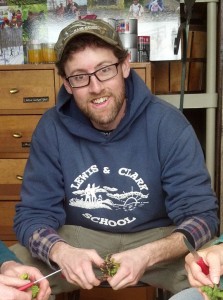 So while we have been caught up in new goat kids and naming themes, we have another new being at the farm.  Andrew Stowe has joined our team to take over managing vegetable production as Liva prepares to head off and manage a baby.
We are thrilled to have Andrew join our team, bringing enthusiasm  experience, and fresh energy to the farm.  Andrew joins us after many years of mixing farming and field biology, so yes, we get another biologist on the team!  Those of you from the Randolph area may have met him last season at the Randolph Farmers Market when he was working with HighFields Farm.
He brings with him not only a passion for farming and Vermont (he has some strong familial roots here), but also a view of how many other farms are tackling the challenge of producing high quality sustainable food from as far away as Hawaii and Alaska and a natural talent for systems improvements!  We are glad that after his extensive travels that he resettled here in Vermont.
Thanks to Liva's excellent preparation and Andrew's jump-in style, the transition is going smoothly, seedlings are growing, spinach keeps getting harvested and the final plans for the season are getting wrapped up.
Do join us in welcoming Andrew to this farm community.