Looking to place an order or curious about our check out sheet and prices?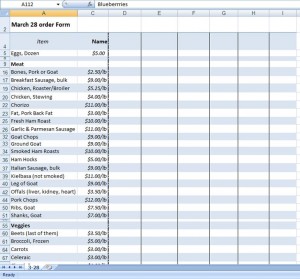 Here is the spot.
Click on the appropriate order form below.  It is in excel.  You should be able to open it, fill it in, save it and email it back to us at Orders@EatStayFarm.com.   If you have any problems opening or saving the spreadsheet, you can also always look at this week's list on the website or newsletter and email or call us with your order.  Thanks.  If you have any problem with the excel file, let us know.
If you have any problems or questions with the order forms feel free to call us at: 802-505-9840 or email us at: Farmers@EatStayFarm.com
Thanks!