We can still picture Lauren, leaning forward in the interview, positive and confident. She expressed commitment to communicating the nourishing potential of real food. A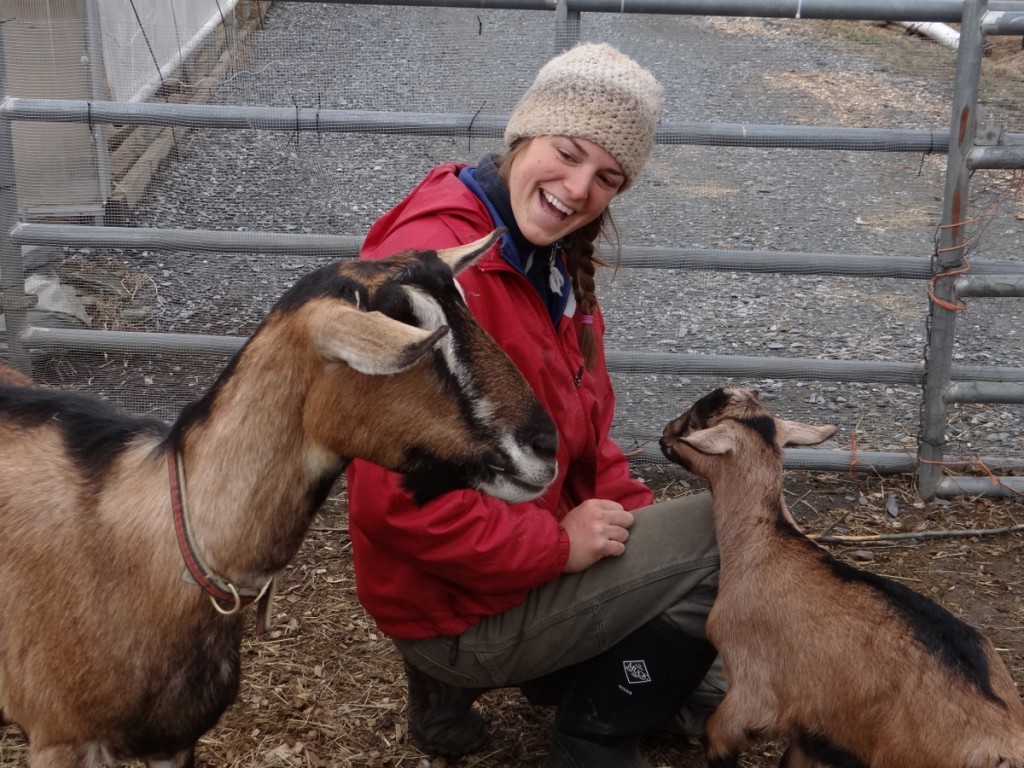 promise she fulfills.
Flash forward through the seasons and the vignettes display an eager apprentice, gritting through daily chores with stamina and satisfaction, honoring labor with quiet and news of births with hoots, commemorating losses with reflection, struggling occasionally with no need or expectation for comforting, flourishing amidst the press of catering events and processing robust harvests, handling animals with ease and acute livestock emergencies with grace, creating team and developing colleagues with positive observations delivered with sincerity and flair.
Look at her year-long service as a whole and you see consistency and dependability. Showing up! Snow day, sick day, every day.  With the distraction of 19 goat kids bouncing about, look up at 3pm on Thursday and there crossing the barnyard walks Lauren, on her way to set up farmstand.
Along with this consistency also a persistent diehard commitment. Contemporary dialogue about food produced via just means (environmentally and socially responsibly, holding rather than outsourcing the full cost of production) is perceived as expensive. Lauren is a young person who in the midst of a very low income, votes with her fork and spoon every day. She chooses food with dedicated intention. She rejects mainstream expectations of low food costs and invests in herself and subtly leads society forward to the reality that real food is a worthwhile investment, offering more to our bodies and making our planet better and society stronger.
Customers at the Northfield Farmers Market and our farmstand inspired Lauren's enthusiasm. Have you tried the…? Did you hear we have fresh ham this week? A huge percentage of contemporary society might shirk some meat cuts due to paying for bones. But Lauren's quest for nutritional knowledge makes her not only appreciate but also advocate for the supremacy of flavor and nourishment from bones. This energy extends equally to vegetables. No one in the history of this farm has sold as much celeriac or
liver. Perhaps no one will!
Finally, she has a way with words and uses her flair with the "pen" effectively with social as well as traditional media. Our newsletters and blog (our favorite is There's a Richness
in Them There Hills) as well as the Floating Bridge Coop have benefited from her good efforts. Luckily Lauren is underway with yet another piece for Local Banquet magazine so have a look for her byline out in the world into the future!
When, at the recent press conference with Governor Shumlin he learned that Lauren is a UVM graduate who had returned to Vermont. He asked "so are you staying?" Okay, so she is heading West, but with all due respect, Lauren is with us! One hundred percent.