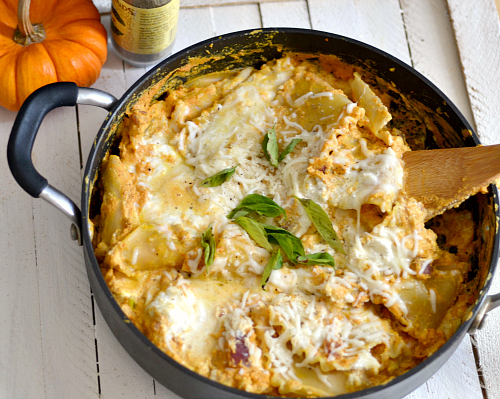 This recipe comes from a good friend of mine.  As long as I've known her, she's had that god-given culinary instinct–she can throw seemingly random ingredients together, perform some alchemy in the skillet, and voila! Delicious dishes 24/7. She pulled this twist on the classic lasagna for the first time a few years ago, and now we all beg for it at potlucks and the like. I hope you'll try it and let me know how you like it!
Ingredients
3/4 lb. lasagna noodles, prepared according to package directions
3/4 lb. mozzarella cheese, sliced thinly
1 lb. ricotta cheese
1 lb. pureed pumpkin
3 cloves garlic, minced
1 egg
1 tsp dried sage
1/2 tsp salt
1/8 tsp nutmeg
1 large onion, diced and caramelized
1 lb. chorizo, lightly cooked and crumbled
Directions
Preheat oven to 375.
Combine pumpkin, ricotta, garlic, egg, sage, salt, and nutmeg until smooth and consistent.
Toss crumbled chorizo with caramelized onion.
Pour a thin layer of the pumpkin mixture in the bottom of a greased 9×13 baking dish. Follow with a layer of noodles, then another, more substantial layer of the pumpkin mixture, a coating of mozzarella, and then the chorizo and onion mix.  Proceed layering in that order until your dish is full, but be sure to have some mozzarella plopped on top!
Bake covered for 25 minutes, remove cover, and bake for another 25.  Cool for fifteen minutes before serving.