Farmer Emeritus & forever a Green Mountain Girl!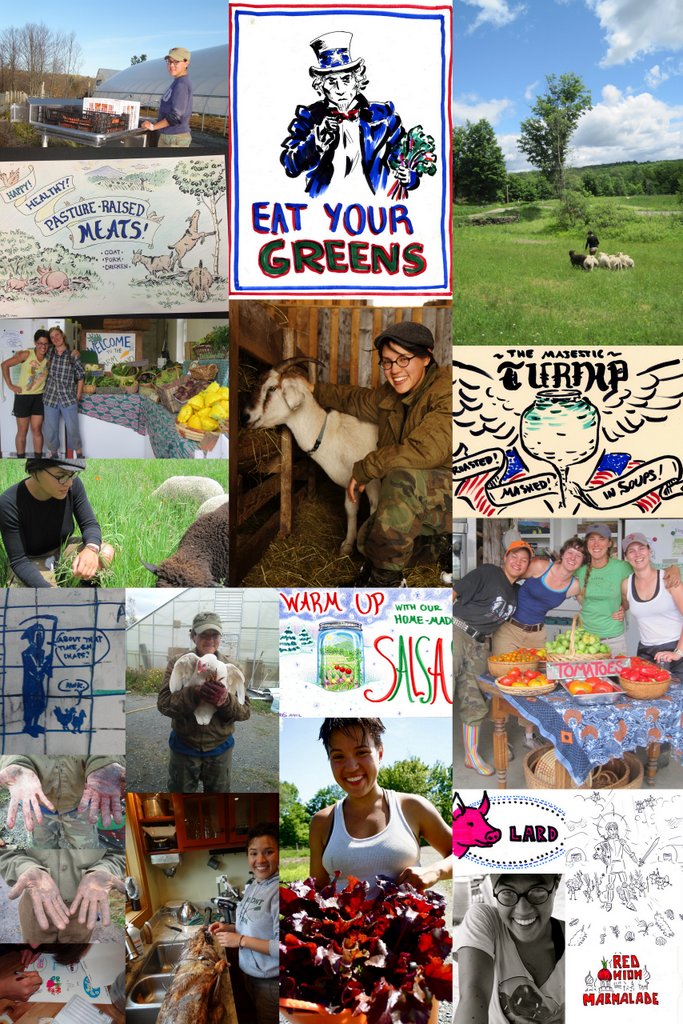 Congratulations Anna — Farmer Emeritus & forever a Green Mountain Girl!
Whereas you are now off to work with "indoor people", you've seen this farm and cared for flocks and field in every season.
You apprenticed with abandon, returned for a second season and returned again after graduating,
Still in that third season, and always – humble, yet also being wise beyond your years.
Whereas you tested our metal, choosing to wear what some might consider an intimidating belt and more than the average number of safety-pinned patches to your interview,
And since have donned festive hats and made barnyard sprinting even more remarkable with barefoot toe shoes, and striped barn boots. When wetness or cold approach you offered the world a walking study in wool, taking us traveling across time and continents, the Swedish airforce jacket and other vintage drab and camo.
Since you are gifted as an artist –writing, especially sketching, quick doodles with dry erase cleverly marketing our wares, given an hour and a better pen you've translated the meaning of our ecological practices and quintessential Vermont site into signs that set the tone in the farmstand.
Whereas you carry 5 gallon water jugs, 50 pound bags of grain and the weight of the world on your shoulders. And since you showed up here responsibly in all types of weather and completed an outrageous array of tasks, taming hoop house tomatoes in heat, picking fences from the snow…
Whereas thousands of potato bugs have perished at your hands, and you set the pace for our poultry processing days, staying focused, holding care such that the birds, with few exceptions, died quickly and calmly (no cone injuries as indicator) and respectfully accepted responsibility for ending life as you had, on a daily basis, ensured all thrived.
Since you are gifted also with a remarkable sense of the absurd, who wouldn't love your laugh?
And whereas your kindness, thoughtfulness and humor have lifted our spirits,
Let it be known that maximus, minimus and medius and all us farmers will miss you terribly.
Therefore let us thank you for pushing yourself physically regardless of the weather or hour of day,
and for being ready for more and happy to take on the hardest aspects of a job. And let us note that your ease is not only physical but is also attitudinal. We tried to probe for your authentic preference and you'd gamely chime in "anything goes." Finally, after years of working with you we now understand you are simply highly adaptable.
Further let it be resolved that your thoughtful questions, creative offerings of solutions and that extra sparkle in your eye as you learn from and about new people have created great value at the Green Mountain Girls Farm and in the lives of your colleagues.
Therefore we hearby declare Anna Svagzdys, farmer emeritus at Green Mountain Girls Farm, a title bestowed with love, respect and appreciation, with rights and privileges appertaining thereto: Endless eggs, farmer veggies (you never took enough) and an open invitation to Farmer Lunch.