We are starting to settle into some fun winter cooking with the cold days.  Lots of fun roots for veggie fries or roasting and a new item, pork jowl.  This is most often cured or smoked into another form of bacon, guanciale for the Italian lovers, but you can also braise it and fry it up at home. Or smoke it if you have a smoker.  We have a piece thawing and can't decide whether to try Crispy Pork Buns or Thai Style Pork Jowl or maybe we should try to smoke them…
This week at the farmstand you can find:
Goat Milk
Eggs (members only)
Fresh/Stored Veggies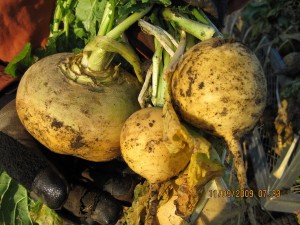 Beets
Brussels Sprouts
Buttercup Squash
Butternut Squash
Cabbage
Carrots
Celeriac
Daikon Radish
Garlic
Kale
Leeks
Onions
Potatoes
Pumpkin (long pie & round)
Salad Greens
Shallots
Spinach
Thyme
Turnips
Meats
Bones, Pork & Goat
Breakfast Sausage
Chicken, Roasting
Chicken, Stewing
Country Style Ribs
Fat, Pork Leaf
Fat, Pork Back
Garlic-Parmesan Sausage
Goat, Ground
Ground Pork
Ham
Jowl, pork
Lamb, ground (Ridge Meadows Farm)
Leg of Goat, Roast
Offals
Pork Chops
Pork Roast
Smoked Polish Sausage
Veggies in the Pantry
Antipasto Veggie Pickles
Bread & Butter Pickles
Pickled Daikon & Carrots
Giardinara
Lemon Pickles
Canned Tomatoes
Tomato Puree
Tomatillos, canned
Salsa, Red
Dried Tomatoes
From our Partners in the Floating Bridge Food & Farms Coop & Neighbors 
Fat Toad Farm's Caramel
Sweet Retreat's Maple Syrup
Brookfield Bees Honey
Ridge Meadows Eggs & Lamb
Coming soon… Spotted Dog Farm's frozen berries!
Most will be available throughout the week.