We struggle to keep our animals comfortable and thriving. They grow well. It is humane and just. But every once in a while our systems and efforts fail and the safety of our livestock is breached, to serve the comfort and thriving populations of wild animals who neighbor and share the farm.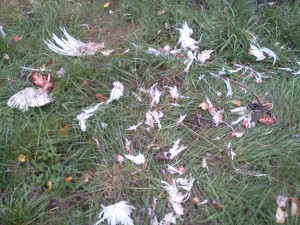 Sunday chores for Lauren included the brutal discovery of big losses in the turkey flock with at least six birds killed Saturday night alone and likely a few chickens and turkeys eaten in the days prior. Sobering. Frustrating. Sad.
Anna, Laura and Mari joined the detective effort, trying to piece together what predator was involved and what contributed to their access, so as to mitigate the chances of additional losses. The lowest line on the perimeter fence was not transmitting electricity, enabling the fox or fisher (our best guesses)an easy way in. Sunday morning roughly 30 live turkeys were out of their electric netting, in the chaos of the attack a mass of birds may have rolled the fence down so that many were out of the netting and vulnerable.
Sunday evening we decided to do everything possible to break the pattern. Anna marched the 61 remaining turkeys into the barnyard.  In gorgeous light the pea green cover crops provided excellent contrast to falls last flurry of color. Anna looked like the pied piper and the scene reminded us of the days when turkeys were walked to Boston and other Thanksgiving destinations from Vermont!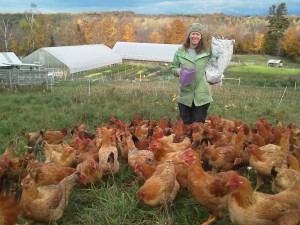 Next we put the remaining 120 or so Freedom Rangers into the neighboring paddock, just a dayahead of our plans to gather them in for processing. As Tuesday's chicken processing team hit stride we were glad to be getting the birds in the freezer. We've heard of counting chickens before they hatch, now we are wary of counting birds before they are bagged.
On that note, we were excited to have Michael Mitchell of the Vermont Agency of Agriculture's Meat Inspection division at the farm Monday inspecting our new farm room and granting us our retail cutting license.  This will allow us to do some of our own meat cutting and processing for any of our meat slaughtered in inspected facilities. So this week's chickens you will have to cut up yourself, but in the future we will be able to offer some chicken parts.   It is fun new capacity for the farm that we will be exploring this fall and winter.