It is August, which means it is a busy time on the farm. Just this week, the 5 farmers (and a few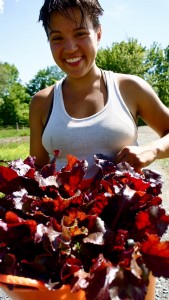 helpers):
Harvested over 659 lbs of Green Beans, Broccoli, Tomatoes, Peppers, Onions, Cucumbers, Cabbage, Carrots, Beets and ……many other bits!
Blanched, Packaged & Froze 79 lbs of Green Beans and Broccoli
Canned 39 Quarts of Tomato Puree
Dried Loads of Sungolds
Moved 230 chickens and 78 turkeys (several times)
Milked 23 gallons of milk from the goats
Hosted 33 guests for Farm Experiences, Tours and/or Lunch
Set over 6000 feet of electric fence (and picked it up too)
Moved more pounds of weeds to the compost, pigs or poultry than we'd like to know
And, had 0 Bear Encounters, but 10 anticipated bear encounters while setting fence in the Raspberries for Boris & Company
This next week will have similar numbers just shifted in a few other directions.  August is
bountiful.  Everything is growing, the crops, the weeds, the animals, the pasture.  And we try to keep up!