What a treat to have so many of Laura's family here to celebrate Kathy's birthday. Friends and family traveled from far and wide to celebrate her.  It was fitting for a gal who showed sheep and
road horses in her youth to host the party at the farm.  But more and more we realize there is universal appeal to the working landscape and Vermont's natural beauty.
And it reminded us again that the farm is fun for all ages. Once the barn and farmyard start buzzing with folks enjoying themselves vignettes from other such fun occasions role forward in visual memory.  A farm picnic on a Summer evening… grilling meats in the barnyard, farmstand stocked with gorgeous harvest and augmented with delicious side salads, glance over at the pond where neighbors unfold their lawn chairs and kids are crouched over in swimsuits glancing at frogs… Time and time again the farm proves fun for all ages.
The slow food movement emphasizes food in a cultural context and these moments bring that point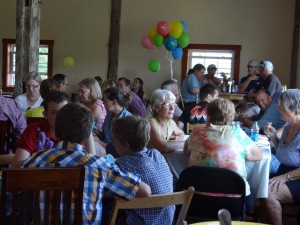 home…  We enjoyed the whole weekend. From rigging the beast on the spit to dishing it up and enjoying the feast, laughing at kid antics and catching up and conversing, watching a granddaughter deliver a splendid cake and a grandson a multi-media celebration of 70 years, all this richness and significance we shared.
Earlier this summer 30 folks from a different family had used the farm similarly for a family reunion. And we realize looking back many of the farmstay guests we have had have come with three generations. Perhaps it starts with an interest in exposing kids.  It always seems to end with everyone engaged.
On the one hand, given our care and intention building our soils, following organic practices and growing our meat on pasture… these things make our food delicious and healthy.  Add the ambient sound of frogs and wind, the tales of folks gathering and enriching each other with old stories and new recipes and top it off with occasional live music, now you've got a richness that people typically travel to the old world to find!
Set any occasion in the context of the farm, even a business meeting, and you seem to add dimensions of meaning, significance and fun that generate more of the same.