In addition to tomatoes, this weekend (Sunday or Monday) you can pick up fresh chicken.  Sorry we won't have it ready for Thursday, but feel free to drop in on Sunday or Monday to get the first of this  year's fresh chicken.  This week at the farmstand you will find bounty in the form of: (Most will be available for drop in shopping, but the widest variety is available on Thursday).
Eggs (from 3 farms!)
Goat Milk
Fresh Tomato Salsa
Fresh/Stored Veggies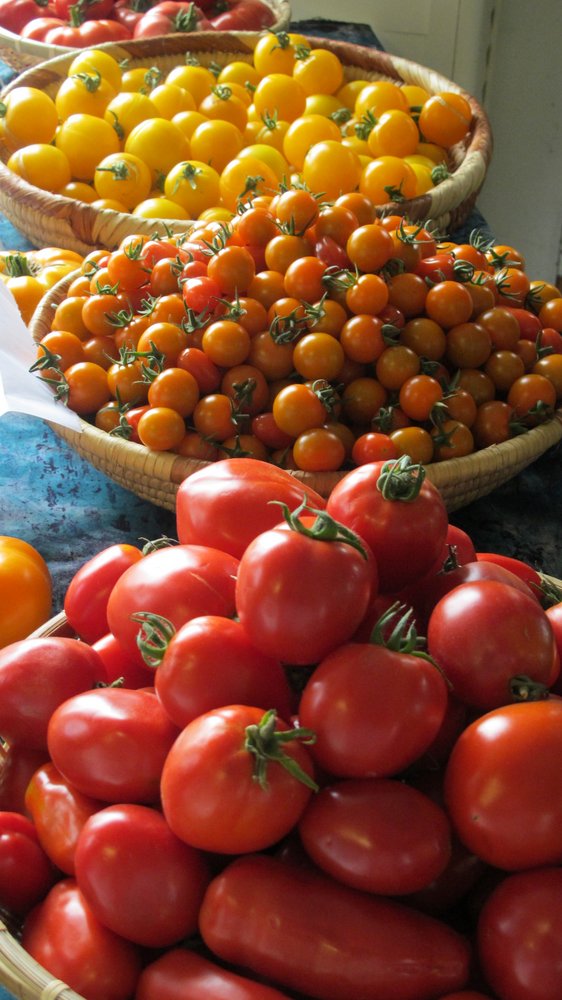 Basil
Beets
Broccoli
Cabbage, Red
Carrots
Chard
Cilantro
Cucumbers
Fennel, Baby
Garlic
Anaheim Green Chili Peppers (mild)
Kale
Onions, Sweet
Oregano
Parsley
Peppers, Hot
Peppers, Sweet
Salad Greens
Savory
Thyme
Paste Tomatoes
Slicing Tomatoes
Cherry Tomatoes
Meats
Bacon
Bones, Pork & Goat
Breakfast Sausage
Chicken, Roasting
Chorizo
Country Style Ribs
Fat, Pork Leaf
Fat, Pork Back
Garlic-Parmesan Sausage
Ham
Leg of Goat, Roast
Offals
Pork Chops
Roasts, Pork
Smoked Polish Sausage
Turkey
Veggies in the Pantry
Antipasto Veggie Pickles
Pickled Daikon & Carrots
Lemon Pickles
Canned Tomatoes
Tomato Puree
Dried Tomatoes
Dried Hot peppers
Bonus
What is on sale at the Farmstand is also on our website.