We had a spectacular weekend in Brookfield and thanks to all who came out to enjoy music, food and to celebrate 15 years of delightful meals at Ariel's Restaurant.  
We send our deep appreciation for not only the amazing dishes prepared with our local food, but also for Lee & Richard's amazing generosity with their time, wisdom, space, ideas, coaching and talents.   We are thankful to have them as neighbors, friends, colleagues, and customers.  Let us all help them have a wonderful 15th anniversary year and many years to come.  Ariel's Sunday Farm Suppers start this week, look for details on their facebook page.  All local food, all amazing.
The Floating Bridge Food and Farms Market in the Old Town Hall was abuzz with folks from the region.  Folks got to feast on kebabs from All Together Farm, Pork BBQ from us as well as sampling caramel, cheese, granola, pate, honey and much more while listening to music.
The Floating Bridge Food & Farms Coop will be organizing another market in Brookfield in August.  Stay tuned. And until then you can keep up with what is going on with all of the members on the Floating Bridge Food & Farms Coop Facebook Page!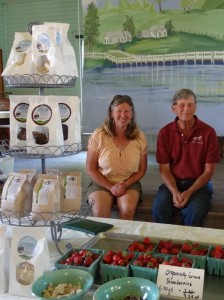 Thanks to everyone for joining us and shopping local!