It is easy to take things for granted. This week as Mari's Dad turned 95, our farm was privileged to be part of a positive WCAX series on the new face of farming in Vermont. (Part 1, Part 2 ) We feel lucky.
Sometimes it takes stepping out of regular patterns to notice one's good fortune. "What sold?"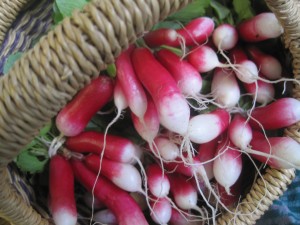 prompted a quick debrief after Tuesday's Northfield Farmers Market. "Radishes!" "Greens." "All of them!"  In that moment we realized how lucky we at the farm and our regular shoppers at the farmstand are. Even while the first two Tuesday markets have been rainy, the regular market customers showed up. And they were especially enthusiastic about anything fresh, such that their ratio of radish consumption outshined our regular farmstand shoppers – by far.  All of us feel the excitement of early Spring veggies but stepping away made it clear some of us have less of an edge about it since we are feasting from the farm 52 weeks a year and the hoop houses have kept the farmstand stocked with greens most weeks.
Molly Smith, Robynn Beams, Terry and the WCAX team did a great job honoring the struggle
tomake small farms succeed and highlighting the Vermont Farm Viability program's significant support. Their candid conversation with Secretary of Agriculture Chuck Ross maps out next hurdles that need to be addressed to create an even more supportive context for small diversified farms in Vermont. Meanwhile, we want to celebrate that through the good efforts of elected leaders, state officials and groups like Rural Vermont, NOFA and others, small farms in Vermont can both process poultry and sell raw milk on our farms.
The regulatory conditions in Vermont are favorable and getting better. Consumer demand for fresh local food is on the rise and talented journalists are shining the light on the potential for more improvements still.
What does this mean? We hope it means that farms of the future bring jobs back to our neighborhoods and enable us to all to eat food that is fresh, thus tastier and more nutritious. That we can once again take for granted the beauty of animals on pasture and the authentic and inspirational essence of Vermont's working landscape. It could mean that the knowledge from our grandparent's farms, held in stories of elders, can once again produce value.