RED TAIL RING BRINGS ROOTS & TRADITIONAL MUSIC TO THE GREEN MOUNTAIN GIRLS FARM JUNE 3rd
UPDATE: If we get rain we'll scoot our picnic to the greenhouse, so don't be a stranger if the skies are grey!
Sunday, June 3 we will host an evening of music from Americana roots duo Red Tail Ring. Laurel Premo and Michael Beauchamp of Red Tail Ring share a raw blend of original compositions and interpretations of old ballads and dance tunes from Appalachia.
Prior to the music, the farm will be open for Farm Activities and a Picnic Dinner for all ages to get an up-close look at a working farm. Join us to meet the hen flock and collect eggs and/or meet our dairy goats and observe the evening milking.  Then lounge by the pond and enjoy a Farm Fresh Picnic Dinner.
Basic Scoop:
Farm Events:
Price for farm activities and picnic dinner are $15/adult, $5/kids
Music:
Begins at 7 pm in our Barn Event Space; a $7-10 donation is asked of listeners.
Reservations not required, but are welcome for planning purposes.
Details:
Red Tail Ring
Hailing from Kalamazoo, MI, Red Tail Ring has made haunting, close harmonies a centerpiece of their performances, which they support with a bed of intricate instrumentation on fiddle, clawhammer banjo, mandolin, and guitar. Beauchamp and Premo have traveled increasingly farther in their musical ramblings, playing shows throughout the Midwest, East Coast and Southeastern United States. Working as stewards of the traditional music that they love, the duo added Denmark to their list when they performed and taught as cultural ambassadors through the American Embassy in 2011. Red Tail Ring is part of the Earthwork Music Collective which houses many members of the vibrant Michigan music scene.
Laurel Premo is the sibling of Evan Premo, a Northfield resident, who founded Scrag Mountain Music two years ago, which works to bring classical music to Vermont audiences through innovative, interactive, and affordable performances of world-class music.
Menu
Picnic options will include roasted goat and our pasture-raised pork ribs with sides and dessert.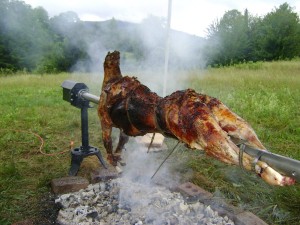 Green Mountain Girls Farm offers healthy (natural and sustainable) and happy (free range and loved) animals and vegetables as well as authentic farm experiences and farmstays.
For more information on Red Tail Ring, visit www.redtailring.com