For Laura it started like this: She and Lauren were in the market pig paddock reviewing morning care procedures. Phone rings. Voice rings with equal clarity, "I'm okay but I need help". Then Laura repeats out loud hoping Lauren will help her make note, "Grain. Eggs. Those scraps of plywood. Screws. Drill." "Somewhere between Exit 5 and 4.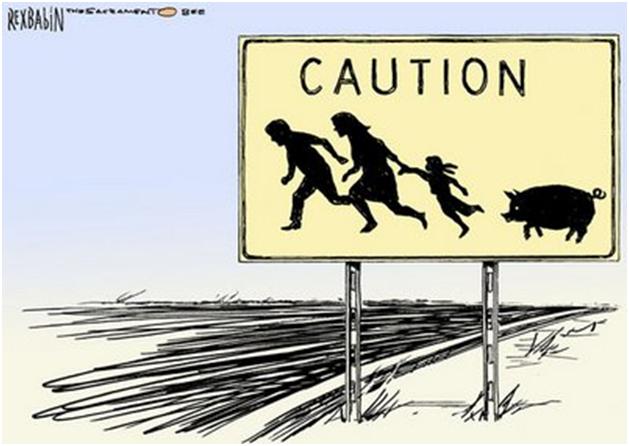 The second call I made (standing with the roadside door of the trailer open, scratching Madi behind the ear when she was on my side), was to 911. I remember saying something like "It isn't an acute emergency but the pig I am transporting to slaughter pushed through the side door on the trailer and the trailer debris is in the middle of the road.  I have help coming from the farm to reseal the trailer but I am concerned with the slight possibility that this large animal could get out in which case we would need serious help". My what if voice favored lining up back up support. Together the dispatcher and I established I was near mile marker 35.
I was aware that Madison would sense my energy and so it was no time to beat myself up about not traveling with grain. We ALWAYS (except today) travel with grain. I contemplated going over toward the woods to try to rip up the first greening weeds to lure Madi from sticking her nose out the hole where the door used to be on the traffic side.  WHY did she insist on checking out the 70-mile-an-hour traffic anyway? But the idea that my trip to the woods might encourage her to try gave me pause. Instead, I began belting out church hymns, loud enough to matter in the regular VAROOM zooming by but with hints of softness so as not to convey any stress I might hold. By the time the Golf came over the knoll with Laura and Mary eighteen long minutes later, I had an idea of how we might deploy the plywood scraps. Meanwhile Madi was newly familiar with the Christ the King, Immaculate Heart of Mary and Weston Priory hymnbooks of the 1970s and '80s. At least the hymn refrains.
Now I realize the church hymns entered early. I started the trip with Morning Edition on the radio. But by the I-89 onramp I had decided to turn it off. Madi was obviously active in the back, it felt like I was driving the trailer in heavy wind. Yes, right when I noticed out the left mirror that the bottom corner of the side door was getting inched open in shoves I had started the hymns.  Soon it was just surreal visuals, no soundtrack.  A larger triangle of steel and aluminum was bending out in pulses, mostly going back smooth. Then larger, and not bending back.  Then with little puffs of a reddish smoke? Yes, reddish smoke. Larger gap AND a reddish nose.  Then all sorts of rust dust, a whole face and finally a careening piece of fuselage cart-wheeling in the center of the southbound lane.
It is always good to see teammates but I was elated to have Mary and Laura arrive. Mary's good with power tools and she and I carefully staged supplies on the safe side. Laura's great with pigs so she jumped in after shifting the power by administering a handful of grain and an egg.
Then two guys from the highway department showed up. First they gathered the debris. What a lot of courage it takes to do their job and how grateful we were that they had made the whole situation much safer already, no more slalom by semi-trucks and regular drivers who may or may not be on the phone. Plus we had their orange flashing lights.  Soon behind that we had blue lights. Now the power had really shifted!
Our good cop reported that he didn't really NEED to be there, he "just had to check it out based on how the call came through".  He asked "What was she MAD about"? Subsiding adrenalin seems to leave lots of propensity for punchiness and I said "she hadn't been fed breakfast and she was pretty sure she had booked a window seat".  Later we realized the incident may have been registered as "a mad pig" and it may all have stemmed from the problem that I referred to her by name!
Great respect for Madi was made evident by the remarks and questions from all three men. "How much does she weigh? I've never seen a pig that big.  How long does it take for a pig to get that big?" Sadly for the status of women (echoed in Katie Spring's blog this week), less dialogue was exercised and Mary found the drill being grabbed, perhaps by someone knowing they were simply more comfortable working in a ZOOM context, perhaps not even aware that he never would have grabbed the drill from another guy… Regardless, we puzzled together and, though Madi undid some of the progress, by the twelfth egg we were pretty sure she wouldn't make it all the way back through our carpentry work in the 10-15 minutes remaining to Braintree.
As much as it is often sad to part ways with our livestock, and even though this was the end of an era with Madison being the last of our year one pigs, reflected in her revolutionary era name, I was enormously glad to walk her in the gate and hand her off to the humane certified team at The Royal Butcher.
We feel lucky that we have a great story and no real trauma from this day. My brother's friend Rex Babin, a spectacular cartoonist who died way too young this week, captures the sort of energy we felt in his pig on the loose cartoon. Sobered by the reality of this loss and of the recurrent hum of traffic in my brain it raises again the concern that the small margins in sustainable agriculture create conditions in which lots of people use hand-me-down equipment, make do and take risks. Let's all work to even out the subsidies. Farm safely everyone.   Oh, and ALWAYS carry grain.