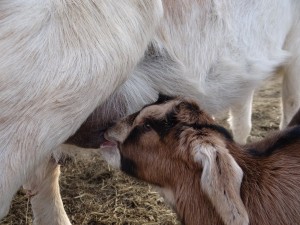 Ok, they are dairy goat kids, but with mountain names, this year's theme.  Nine have arrived so far, with 1 or 2 more does due this week and then the Boer goat does are due in April.
Plenty more goats, piglets and poultry to name this year so do send in your name suggestions in the mountain theme!
Marlene's 3 Peaks
Marlene lead the pack with a Friday evening delivery and her first male was fully breech, his little
tail coming first, followed by lots of hips & legs.  We had wondered which lucky animal was going to get named after the mountain we look at everyday — Paine Mountain.  As we helped Marlene deliver him and then clear the fluids he had inhaled, there didn't seem to be any question what his name would be.
He was quickly followed by two more even bigger kids, Pico (female) and Pisgah (male).  Pisgah has some excellent go-go boots and despite this heat Pico has some snowy white trails on her side.
Grace's Triplets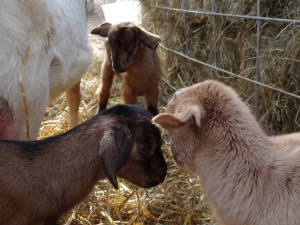 Grace went for the quiet, solo approach delivering her triplets in the wee hours of the morning,having finished up by 5 am when Mari checked on her. 2 more males and buff colored girl arrived early Saturday morning.
The boys carry Boris seemingly dominant coloring, though one has a white spot on his knee.
Myst's Wanderers
Myst hit the opposite end of Saturday having delivered her first one around 9 pm.  Silly us, we thought we'd just check on her, find nothing and head to bed.  She delivered the first outside, and then was amazingly distracted by every little sound and finally delivered her second around 11pm.  Springer & Katahdin – a nod to the Appalachian Trail and the adventurous by nature.
Ingrid
Ingrid just had 1 big, jet black kid, with tiny ears on Sunday morning.
She had already delivered when we arrived, and Springer, Myst's serious wanderer, was in the stall checking everything out.  I guess at 8 hours old, you are well experienced in the ways of the world.
Kilimanjaro outpaced everyone in size, weighing in at 11.3 lbs.
You can meet them all at the farm  and on facebook, where there are more photos..  They have all moved down to the hoophouse.