Tender morsels of wisdom and assistance have come from seasoned neighbors and community members throughout our startup. Thanks. And we need more — so please keep the good advice and feedback coming!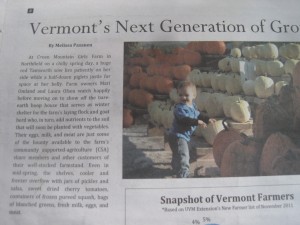 This week's newspaper insert celebrating UVM Extension's Centennial, uses our farm as an illustrative example of Vermont's Next Generation of Growers. And we take seriously our role in perpetuating the working landscape and celebrate that this legislative session began not only with Irene recovery work but with an ambitious Working Lands Enterprise Investment Bill. It aims to boost agriculture and small businesses while preserving Vermont's traditional rural economy.
But this last month, as the snow barely covers the ground, we've been appreciating young talent
that has sprung from this native soil.  And the special contributions made possible by the roots these individuals have in this place.  The farm is a tiny cluster of enterprises so employment opportunity is similarly modest. But emails that offered extra hands over the holidays became the biggest gift we received this holiday season!
As a result of the return of past team members, we all had a chance to get both some rest over the
holidays as well as some significant traction on special projects.  As preachers of the high return on investment of buying local we were smiling wide at the truth this holds for talent. As the team blossomed to large numbers for a few days we could fully tap people's strengths assigning duties that matched talent and personalities as
well as skills.
It is significant to have people to return to roles they've been trained for in the past from house-sitting to chores. But even more useful is to have folks on the team that know our town, community and surroundings better and differently than we do, to help us navigate efficiently and effectively through running and expanding our farm. Beyond the local knowledge, commitment to this farm and changing the food system, and the physical strength and stamina, the biggest boon from this influx of young talent is the hope their passion, interest and commitment bring.
So, from the Green Mountain Old Ladies (Mari & Laura) and Green Mountain Gal (Liva), this is a huge THANKS to the Green Mountain Girls (Anna, Magen, Rose, Sophie and Tessa and to those who have gone before (Kati, Megan, Alexa, Carrie, Daniel) and still enter our conversations and influence our work).  You augmented AV needs of meetings with your own equipment, you tapped the knowledge of relatives to aid our cause, you support our thinking with new perspective on our community, you offer fresh perspective from current our ongoing studies, you plug us in to technology, offer art to the cause and so much more! Here's to the true next generation of growers.