This week we say goodbye to the goat kids born on some cold late winter days at the end of February
and early March.
Goat kids tug on the heartstrings for many people.  Our vet has called them perhaps the cutest animals around, and I think she has said it is a good thing due the trouble they can cause. We think that EB White must have modeled Tigger after goat kids, because there is a time when they bounce more than walk.
This year's crew has brought joy, frustration, worry and of course, laughter.  From watching the core milkers 8 little ones, using Gellert as a jungle gym, to seeing them chase each other around the fields and search out the variety of forage in their new space.
Set, Alexandria and Wael from the beginning were the highly social crew.  Set, named for the god of chaos, was born in the big storm of early March and still insists on jumping up to see what you are doing.  Wael had a phase of lodging Mari's kneecap between his little horns – his idea of a great game. Even in this last week, as their tarp fell in the wind, they found it made a great slide, if only they could get up high enough.
With that joy and care, comes worry and heartache.  There was the day, Laura heard calls that just didn't sound right from Kati's field, when we rushed over we sadly found 4 caught in the fence. Fortunately, 3 were fine, but we did loose Omar.
As we say goodbye to this year's crew, the does are focusing their energy on bringing us the next set of silly, beautiful goat kids to fill the 2012 season with joy and nutritious food.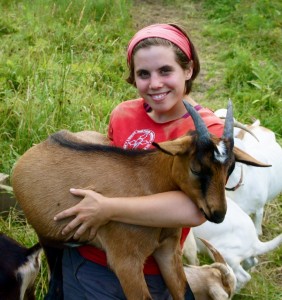 When you fill your days with work you deeply care about, they highs are higher, but the lows are lower.  I'll take that trade-off as the joy of working with our livestock is incredible and the satisfaction of bringing healthy, delicious, humanely raised meat to all of us is also amazing.
Thanks to the goats and our customers for the opportunity.
See more photos of the Eqyptian Goats this year and from Kidding Time