Happy Thanksgiving! May you all enjoy delightful, farm fresh meals with people you love. At this week's Thanksgiving farmstand you will find: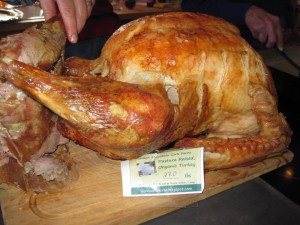 Veggies 
Beets
Brussels Sprouts
Buttercup Squash
Butternut Squash
Cabbage
Carrots
Celeriac
Daikon Radish
Garlic
Kale
Onions
Potatoes
Pumpkin
Salad Mix
Shallots
Turnips
Meats
Bacon
Breakfast Sausage
Chicken, Roasting
Chicken, Stewing
Country Style Ribs
Garlic & Parmesan Sausage
Goat: steaks, chops, shanks & ribs
Ham
Italian Sausage
Kielbasa
Offals
Pork Chops
Pork Roasts
And Turkey, of course!
Herbs
In the Pantry
Bread & Butter Pickles
Canned Tomatoes
Tomato Paste
Tomato Puree
Red Salsa
Salsa Verde
Eggs, limited supply
Goat Milk