Passion, artistic focus and a whole lot of equipment came to the farm with the 3 NYU film students,
their 3 child actors and crew Saturday.  "Green House" will be a web short to help teach kids about sustainable, local farming and we were glad to be part of the blended documentary and scripted film.  We look forward to linking you to what this talented and spirited team produces.
As the sun set Saturday we herded the turkeys back to the barn with the help of the actors, who incidentally had "smell-a-ported" to the farm thanks to their magic skunk friend Terra Bite. What good looking birds! It was fun to see them forage as we walked. And spectacular to catch the gorgeous displays of these birds, feathers spreading, wattles reddening and faces transforming to a bright blue that one forgets is found in the natural world.
Earlier in the week Jeb, a Times-Argus photographer, had remarked about how clean our animals are. Moving animals makes that possible and as the turkeys paraded, the white ones looked so crisp.  And the broad-breasted bronze ones spectacular, their iridescent wings holding remarkable depth of color. (Incidentally, that intensity holds a legacy with some inky black spots remaining on the processed birds).
While turkeys are said to gobble, the film makers must have captured their beautiful sounds, a mix of staccato trills, clucking, barking and so on. It is splendid that these birds were filmed in their full glory.
The next day, turkey judgment day, as Anna (back on school break), calls it, she, Liva and Sophie joined Laura and Mari for processing.  We reflected that there are lots of moments of glory for pasture raised turkeys. There are the early days when they are fabulously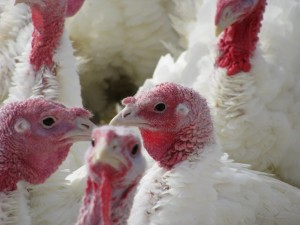 fluffy, a bit gangly and adventurous. There is their group warbling song joyfully issued whenever they move to fresh terrain and of course there is the day when they become the centerpiece for our Thanksgiving holiday.
We try to hold gratitude as part of our daily life. Thanksgiving, especially this year, fills us with appreciation of our good health, supportive friends and family and another successful farming year. We are grateful especially to our farm share members and regular shoppers who support the farm and encourage the farmers, for the talented farmers who lighten our load and brighten our days, our neighbors and other folks who mentor us as well as our livestock who are thriving and working within this farming system, as we produce tasty meat, eggs and milk along with delicious veggies. Of course Hop and Uno make us smile with gratitude as they herd, hunt, spread joy and remind us that sleep is sweet.
With much appreciation and gratitude to you all and best wishes to you for a glorious feast,
Mari and Laura