December 11th 10:30 – 3pm
Join Cookbook Author Diane Imrie for a cooking demonstration, tasting and conversation about Cooking Close to Home for the holidays and throughout the seasons.
Diane will be cooking, sampling dishes and signing cookbooks from 11am – 2 pm on Sunday, December 11th.  Drop by anytime or soak it all in.
Nationally renowned cookbook author, nutritionist and local food enthusiast Diane Imrie will coach us on seasonal dishes preparing for the holiday season.  Imrie will share a wide range of tips and reflections on Cooking Close to Home recipes.
Diane will be cooking Pumpkin Cheddar Ale Soup, Kale Salad and dessert of course.  Meet Diane and sample seasonal dishes made with farm fresh food.  Her Cookbook makes a great holiday gift and will be available, autographed for your favorite cook. Even better packaged with a gift certificate for a cooking class. Diane will be offering discount on multiple copies of her book. More about Diane and the sustainable food program she has achieved as Head of Nutrition at Fletcher-Allen Hospital.
The Farm's Holiday Open House begins at 10:30am with Lattes on the Hoof!
Fill a mug and join us at the milking barn to meet our goats and have milk frothed right into your mug!  Then join Diane Imrie in the barn for cooking tips and samples. Lattes available from 10:30-11am.
In addition to the cooking demonstration and samples, during the open house you can tour the farm, meet our piglets and the new goat does that arrived this week, and shop at the farmstand.
Farmstand & Holiday Shopping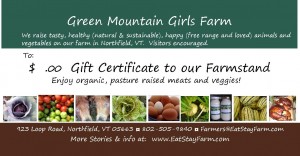 The farmstand at Green Mountain Girls Farm will be open from 10:30 – 3 on Sunday.  Our farmstand will be stocked with pasture-raised meats to enjoy or gift for the holidays, veggies, milk, and canned goods as well as gift certificates and gift baskets.
We offer farm fresh food gift baskets and gift certificates for food, overnight stays,  farm experiences, and cooking classes such as learning to make cheese.  As seen in the Wall Street Journal, experiential cooking classes on farms are attracting foodies, localvore junkies and those interested in unique events.  Consider a farm experience or cooking class for those you love.
Additional localvore Holiday Shopping, including many Green Mountain Girls Farm goods is available  Saturday9-4 & Sunday noon-4 (Dec 10-11) at the Floating Bridge Holiday Shop at Twin Pond Retreat.  More Details!
Holiday Open House Schedule at Green Mountain Girls Farm
10:30-11:00 Lattes on the Hoof – find us in the milking barn
11:00- 2:00 Cooking Demonstration, samples and Cookbook Signing in the Barn Event Space
10:30- 3:00 Shop the Farmstand and tour the farm
Call or email with questions, 802-505-9840.  Directions to our farm.
Our Farmstand is also open every Thursday evening from 4-7pm for drop-in shopping.  Check out what is currently on sale at the farmstand.