Our team LOVES these. We've had them with the veggies more coarsely chopped and finely chopped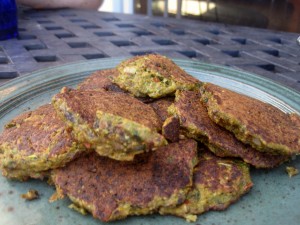 in the food processor.  Yummy! And a great way to use up some veggies lingering in your fridge. And the best part, they are always a bit different depending on the veggies you use.
1/2 cup milk
1/2 cup flour
3 t salt
1/2 t baking powder
3 cups finely chopped or grated veggies (carrots, greens, peppers, squashes—whatever combo you want)
2 eggs
1 small grated onion
1 t fresh herbs or curry powder
Oil or lard for frying
Mix chopped veggies and eggs.  Beat 'til fluffy.  Beat in milk, flour, salt & baking powder. Add grated onion and herbs.
Heat pan with enough oil to coat.  When hot drop rounded spoonfuls of batter and spread to make 2.5-3 inch rounds.
Fry until golden on one side (3-5 minutes).  Flip and cook 3-4 minutes longer.  The next batches will go faster.    Makes 16.