We feel so lucky to be high in the hills. We are grateful to our team, friends and neighbors for help getting ready for the storm. The new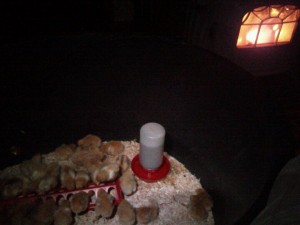 generator ensured all the freezers and fridges kept going. The 150 3-day old chicks enjoyed the dining room, especially the cozy fire in the woodstove once the power went out!  Other animals previewed their winter digs in the barn and we actually got ahead on some fall
harvest, pre-empting possible damage. Fatigue was our biggest problem and that will be resolved quite easily.
We are thinking of so many of you coping with huge losses and struggling under the weight of cleanup. We are haunted by the images and stories from farms who lost not only crops, equipment and infrastructure but also animals and acres. Yet our harvest is abundant. We are aching under the pressure of long sessions canning tomatoes and pickling while simultaneously trying to take in the stories of heartbreak and resilience post Irene.
Hill farms became irrelevant in the last century as large mechanized agriculture became the way of the land. This week this hill farm feels like a good way to grow good food. We are thrilled that Loop Road is repaired and look forward to seeing many of you at the farm this week.