Thanks to Annie Gould who shared this recipe and made some for samples this week!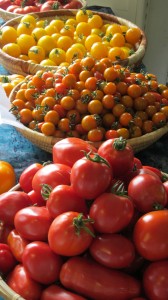 Bell pepper         1
Cucumber           1
Garlic                     1 clove
Fennel                  ¼
Onion Vidalia or red ¼
Herbs – big handful
Rice vinegar                        ¼ cup
Salt – kosher                      2 teas
Pepper fresh ground      ¼ teas
Worcestershire sauce    1 teas
Lemon juice                       ½ lemon (optional – only if using fresh tomatoes)
Tabasco/hot sauce          3 drops (optional)
Pulse in Cuisinart till rough chop – NOT pureed
Put contents into big bowl and add
Tomato juice      4 cups (put into fridge beforehand to keep cold)
Stir well
Serve cold
Tomato juice – can be bottled or made fresh with 10 tomatoes cut up and put through a Foley Mill to take out seeds & skins
A note on the Tomato juice.  Annie kindly made it both ways (fresh tomato juice and canned) for samples at our Farm Stand.  Both were delicious and a real treat, but hands down, folks preferred the one with fresh tomato juice.